I couldn't sleep. I'd been trying to sleep for a couple of hours, but nothing was really happening. Check the news, nothing. Back to bed, try to sleep, nothing.
So I decided to go for a drive, and perhaps a walk somewhere. Around town, somewhere I haven't been in a while – in the dark, err, almost dawn. Quiet, hopefully, and might make me tired.
Not so. A fire had broken out, and I kinda stumbled upon it, a good couple of hours after the firemen had. I snapped a few quick shots with my mobile phone, and talked briefly to some of the firemen while they were resting. Apparently, no one was hurt – but like usual in such a place, no one knew for sure.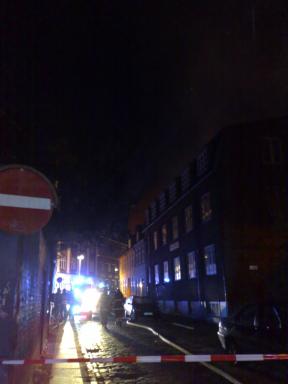 First picture shows the street as I discovered it. Okay, not entirely true – there's a firetruck and a police car behind me with firearms and 5.56 ammo at that point, and I noticed them first. You can vaguely see the building concerned, and the fact that there's smoke in the air, but nothing much else since it's hand-held with a mobile phone.
Continue reading →