When you have colleagues like mine, taking a photograph of the tiramisu before it was eaten isn't a suggestion that's likely to be accepted – so you will have to contend with a picture of what was left: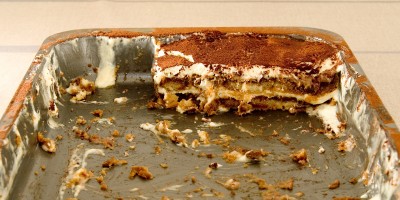 They did all enjoy it, and all my hard work yesterday wasn't entirely wasted.
Recipe
The amounts are for about 12 people, and they can probably be multiplied. You could probably halve it as well, but making much less than that is an affront to the recipe! 😉
Ingredients
8 dl espresso (or strong coffee)
2 dl amaretto or marsala – I like amaretto
500 grams lady fingers (savoiardi) (or more or less, depending on the tray you use)
200 grams sugar
8 egg yolks, pasteurised
8 egg whites, pasteurised
750 grams Mascarpone cheese
Vanilla
Cocoa powder
I used 750 grams instead of the 1000 grams recommended in the book I adapted it from (Spise med Price, DR Forlag 2008). I liked the result, though some more of the cheese might be nice. It wouldn't have fit in the tray I used anyway.
Method
Brew the coffee, mix it with the amaretto and leave it to cool.
Mix the egg yolks, sugar and vanilla – I just added more to taste later – and whip until light and fluffy. This will take a while. Mix in the Mascarpone. Whip the egg whites and fold them in, to make the mixture lighter.
Pour the coffee mix in a flat-bottomed container, and dip the savoiardi sugar side up, so the mixture almost reaches the sugary bit – lift them up right away, and place sugar side down in the tray. Cover the entire bottom of the tray this way.
Cover with a layer of the egg-cheese mixture, about 1 to 1.5 cm thick. Use about half of the amount you have. Add another layer of savoiardi, and another layer of the mixture, making sure to level it out nicely.
Cover, for instance with aluminium foil, and refrigerate for at least 6 hours – I had mine in the fridge for 18 before serving.
Right before serving: Dust with cocoa powder – not the sugary stuff used for making drinks, but pure cocoa. Enough should be added that it looks like a dry layer on top of the tiramisu (in my opinion, anyway).
Probably stores well, but there's not going to be much left anyway 😉
Depending on how long you dip the savoiardi, the tiramisu will taste more or less of coffee, and be more of less mushy. Finding the right balance can be a pleasurable job, as you need to make a new tiramisu each time 😉 There's a bit of work in making a tiramisu, but it's lots of fun, and it tastes great. It may not be too healthy to eat it all oneself, though.